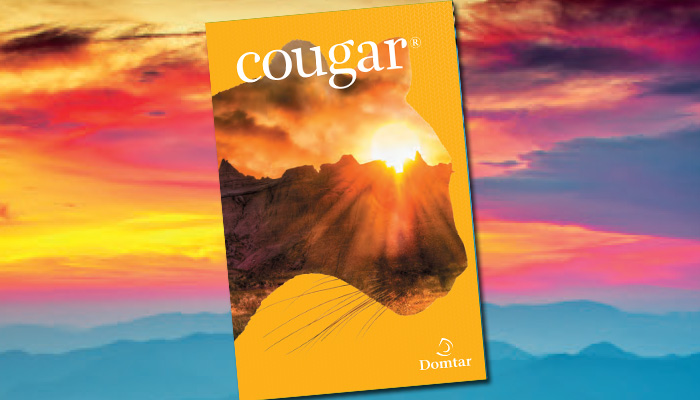 We have received many compliments recently on the new Cougar swatch book along with several questions on how to duplicate the print quality. Three of the things that help us achieve beautiful reproduction of color and detail are:
Build areas of heavy coverage out of 4-color process. The bright white of Cougar looks even more vibrant when it is contrasted with a heavy solid. For example, we build a very dense black with: K – 100%, C – 40%, M – 30%, and Y – 30%.
Depending on the job, we may run anywhere from a 175 to 300 line screen. The key to running high screen values on uncoated stock is to make certain that the dot gain curves applied in pre-press are geared to uncoated paper.  Uncoated paper will have higher dot gain than coated papers.  If dot gain is properly accounted for, excellent mage resolution and a high level of detail can be attained.
Cougar tends to be somewhat bulkier than many other uncoated products and responds well when you apply additional squeeze (more impression pressure) on press. The bulk allows you to compress the sheet more without causing distortion or dot gain. This can be done by reducing (tightening) the gap between the blanket and impression cylinder or by over-packing the blankets. Increasing squeeze can improve ink transfer without increasing the ink film.
Don't hesitate to push the limits when printing on Cougar paper. Heavy coverage and high line screens don't scare us! Cougar is up to the challenge and will meet your performance expectations every time.
Be sure to visit domtarpromo.com to order your complimentary copy of the Cougar swatchbook.