The world of design can be a high-pressure place — but it can also be highly rewarding. To get more done in less time, while still producing high-quality work and operating in a strategic fashion, many graphic designers have realized that their printers and paper providers are their best asset.
Twyla Lambert Clark, Print Consultant & Idea Developer for Nashville printer Lithographics, spoke with us about the power of relationships, including her partnership with the Country Music Hall of Fame and Museum and two recent projects they've worked on together: the Country Music Hall of Fame Museum Events Kit and book production for the hall of fame.
The Country Music Hall of Fame Museum Events Kit
Clark is happy to go the extra mile to help clients. So, when Adrianne Tuck, Creative Manager for the Museum, asked Clark to help her hash out a plan for a media kit, with paper samples needed the same day, she quickly assembled a team.
"They had a wonderful downtown space and needed to market it for a Nashville event planning tradeshow," she recalls. "I gathered Kelley McLaughlin, a Spec Rep from Athens Paper, along with Fred Weisbrodt, a Sales Representative from McGraphics, which provides finishing services."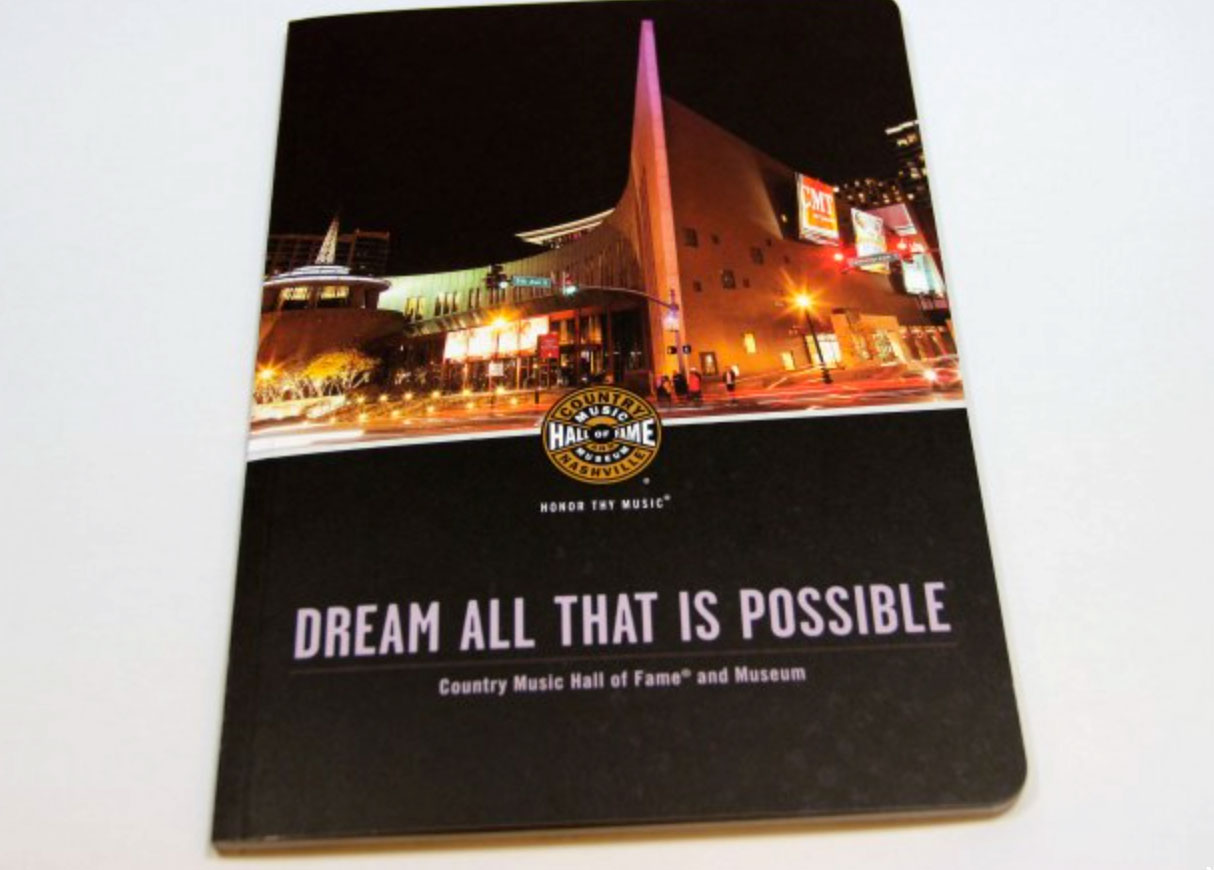 They met in the morning to discuss concepts, which included a pocket folder with booklets of cascading sizes. The size of each booklet was critical, since each title needed to show when the folder was opened. Tuck sketched, McLaughlin provided paper samples and Weisbrodt engaged an engineer to build a prototype, while Clark worked the numbers. Together, they delivered a budget and prototypes, which Tuck presented at a marketing meeting the same day.
"There is a lot to be said for momentum," Clark said. "When people are excited and can visualize a piece and you can put it in the hands of decision makers, it keeps things moving."
Book Production
"There are a lot of ins and outs to producing books," Clark explains. "When done right, it's a collaboration between the person who has the idea for the book, the graphic designer and the printer. You must ensure the design, paper, page count, size and binding all work together to capture the idea, fall within the budget and make the deadline."
After closing its book department for a few years, the Museum later reached out to Clark to assemble a team and begin producing books again. Clark notes that, for a time, many people stopped printing books domestically, believing it was too costly. However, she has seen a recent resurgence.
"Printing equipment has evolved, making it possible to easily print smaller quantities. Books are also affordably priced when compared to other gift shop items like T-shirts, and they make a nice souvenir," she says.
Clark quickly put together a team for book production — and one recent book, titled Dylan, Cash and the Nashville Cats: A New Music City, sold out within three months, requiring a reprint. Great partnerships lead to great print work.
So the next time you feel stuck on a project, reach out to your network of print professionals. Whether you need creative ideas, special print techniques or paper dummies, the people you know may be your greatest asset.
Interested in hearing more stories of creative collaboration? Subscribe to our Blueline Magazine today!