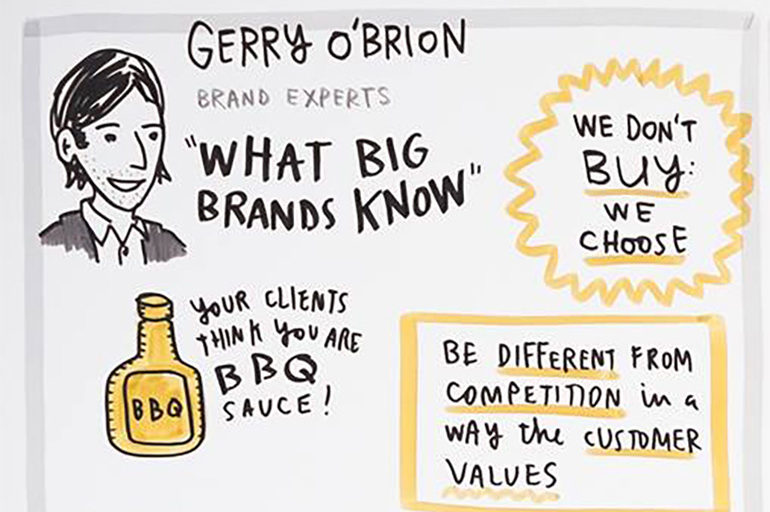 I had the opportunity to listen to Gerry O'Brion, the founder of What Big Brands Know.  O'Brion was the keynote speaker at the President's Conference at the Printing Industries of America. Many of the attendees are executives from print solution providers throughout North America. O'Brion kicked off the session with how big brands navigate disruptive change.
O'Brion has managed several recognizable brands in his career such as Coors beer, Quizno's and Red Robin Gourmet. He acknowledged that the printing industry has gone through change and will continue to do so. It's not unlike other businesses such as the movie rental industry. In 2008, Blockbuster had 8,000 locations and 60,000 employees. Consumers picked out their DVD's and returned them to a brick and mortar store. At the same time, Netflix had 20,000 subscribers to a mail order DVD movie rental service. Today, Netflix rules the home entertainment landscape. According to O'Brion, Netflix became a market leader by adhering to "give your customers more of what they want and less of what they don't."
Key Big Brand Lessons
Know who your ideal customer is.
Know why they choose you versus the competition. Be different from the competition in a way that the customer values. Your brand has value in how it resides in their mind. Their meaning the customer.
Know what they are looking for regarding Outcome.
What is it that they seek?  He gave this analogy, "Nobody wants to buy a drill bit, they want to buy a hole."  The outcome is about them.
Know your Because.
The because is about you. Why does Papa John's have better pizza? It's because they have better ingredients. Your because makes the outcome more believable. It then makes it more repeatable internally (employees) and externally (customers).
For leaders, the message is sound advice no matter what line of business you are in or which segment of our industry. Change is constant. To navigate your company to success, focus on who you currently serve the best and why the customer feels you serve them the best. As your customer's needs change, be willing to change with them to provide more of what they want. It just makes for good business.