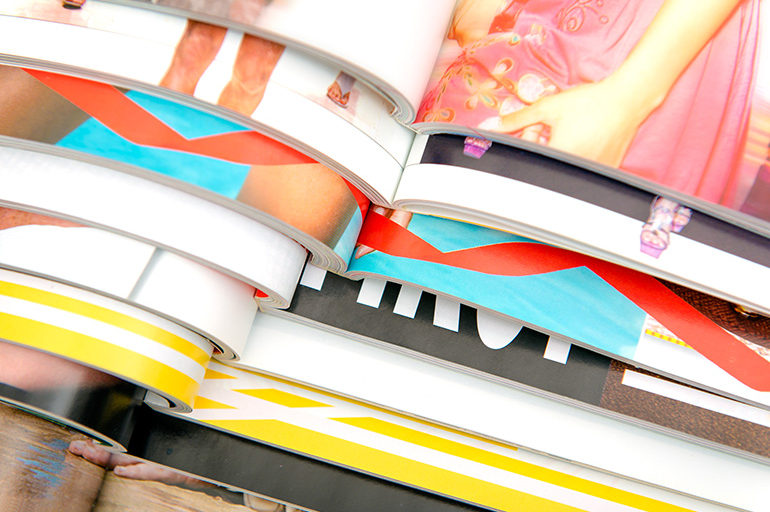 Before I came to Domtar, I managed a Communications team that was responsible for three publications and numerous campaigns. We printed extensively. Way back in the day, I had a Spec rep that would visit me regularly and keep me up to date on the latest promotions and bring me awesome swatchbooks. Well, as we all know, times have changed. Here's how I strategized print solutions in my last job.
Budget Conscious
It's not sexy. In the interest of keeping it real, I had to be very cost conscious in the paper I was choosing. Our quarterly catalog was 130 pages long and heavy. I knew exactly where the tipping point was that would push us to that next postal tier that would incur significant postal costs. We worked very hard to stay under that threshold by using smart design or trimming content.
Opacity
Particularly for catalog work, I was always concerned about opacity. It's really hard to read a product listing and pricing if you can see through the paper. Here's where I wish I would have known about Lynx Opaque Ultra or Husky Opaque Offset. These options would have definitely met the need of an economical solution with minimal show-through.
Printer Partnership
For special jobs, I would use my printer as a resource. Usually, I had an idea in mind that we would discuss and my printer would present options to me. Using your printer as a resource is a great place to start when you are looking for the right paper to make your creativity come to life.
Omni-Channel
Print solutions were always part of my omni-channel campaigns. Like I referenced in "Unlock Your Marketing Superpowers with Print and Social," a well-planned, strategic marketing campaign should use techniques that complement each other and help drive your Call-to-Action. In the marketer's mind, using the right paper can make a difference in how your marketing message is conveyed to your audience. Do you need a more tactile option? Communicate nostalgia? Do you want to wow your audience? Paper definitely plays a strong role in your marketing campaign.
Now that I work at Domtar, I'm a huge fan of the Blueline Blog and Magazine (and not just because they pay me) but because as a creative professional you need a resource at your fingertips. I'm always trying to figure how to work smarter and not harder. Blueline by Domtar is that insightful resource for printers and creatives. It's the partner you never knew you needed.