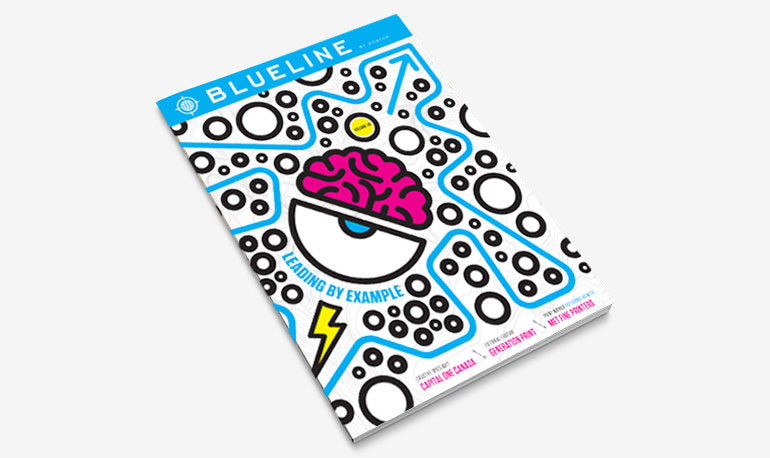 True leaders have integrity. They're driven to succeed, but also possess a sense of honesty and sincerity that allow others to follow them without hesitation—and for the greater good. In this upcoming issue of Blueline Magazine, we celebrate leaders in the world of print and design that are living their values, creating change and generating excitement.
Print is youthful, fresh and exciting. It's full of promise for the next generation that's committed to the tactile, sensory experience of fresh ink on paper. Sarah Scudder recognized this passion, and created the Young Innovators in Print to give these individuals the tools they need to take the industry to the next level.
By challenging the design industry's status quo on what it means to be a design leader, Capital One Canada's team is elevating the traditional role of the in-house designer and generating printed pieces that can only be described as revolutionary.
Natural leaders break the mold and encourage others to bring out the best in themselves. Printing Industries of America's Michael Makin is committed to elevating the print industry to be all that it can be. And, judging from the interview in this issue, he's just getting started.
When individuals lead by example, innovation is a given. MET Fine Printers is transforming the concept of what it means to be a go-to printer in more ways than one—by helping customers understand what it truly means to be omni-channel and building a community through charitable giving.
Like it or not, we are all role models to someone. Let this issue inspire you to lead with credibility, value and purpose.
Eager to learn more about these insightful individuals that lead by example ? Sign up for a complimentary subscription to our Blueline Magazine to receive ideas and insight on how print and paper can help you make your mark.