Bronx Lighthouse Charter School Improves Parent Engagement through Print and Paper
During a recent road trip to Kansas City, my host – Marie Langdon from Midland Paper, set up a visit with the enthusiastic team from REACTOR design studio to discuss the power of print and paper.  It was a nice exchange of printed samples, and a discussion of the history of the Cougar® brand and ideas of what's ahead.
A recently completed project, designed by REACTOR, printed by AC Printing for Bronx Lighthouse Charter School in New York really stood out. It's a kit that contains a nicely designed Student – Parent School Guide.  This school guide included an academic calendar, a crew manual, a decal and a business card. All of the pieces were designed to fit nicely in its own pocket or die cut slits within the kit. The word that comes to mind when you see and hold the brochure is sturdy. The brochure contains information that will be used throughout the school year.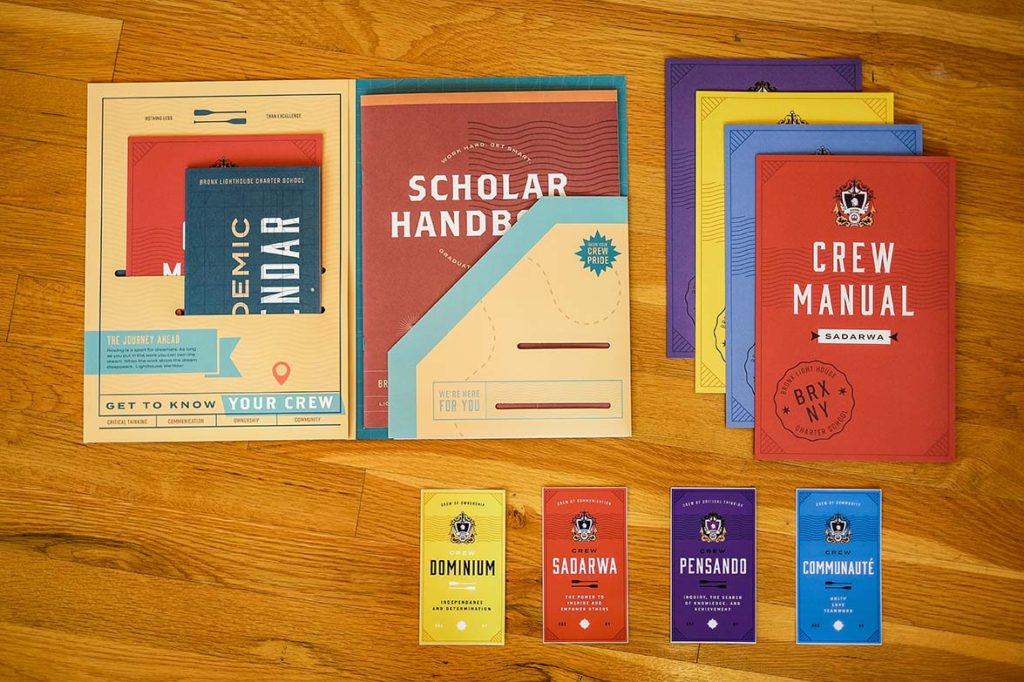 The project was developed by the school principal at Bronx Lighthouse Charter School as a goal to improve parent engagement in their children's education. The school had a student handbook but it consisted of sheets of monochrome copy, along with the school calendar. To draw more interest in parental participation, school officials came together and designed a program segmenting students into four different teams called "crews".  Those familiar with the sport of rowing will recognize the term, a successful crew must work in harmony to achieve goals.
Each crew at Bronx Lighthouse Charter School has its' own color and manual.  The crews compete with one another for points that award for a wide range of positive behaviors, including parental activity; such as, turning in necessary forms by the deadline outlined in the school calendar.  In order to create engagement, REACTOR designed the calendar with a row at the bottom of each month where students and parents can work together and complete tasks with stickers for points earned.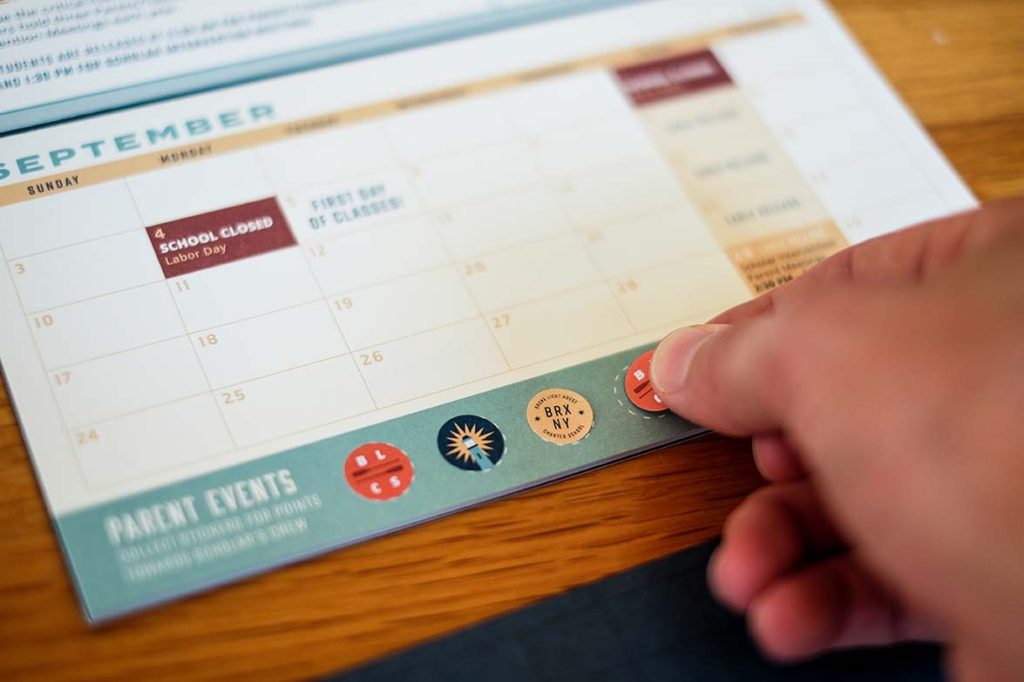 The front cover has an impressive die cut of a compass that allows for each crew's color to shine through. The design represents the journey through the school year with students, parents and school staff. The materials in this packet were carefully curated to keep everyone on course.
The Cover is constructed of 100lb Cougar® Natural Cover folded over to create double thickness and with two die cuts on the inside of this cover, it houses the crew manual and school calendar.  The REACTOR team loves working with the talented folks at AC Printing and mentioned that they are true craftsmen and great partners.

The Bronx Lighthouse Charter School Student Parent – School Guide is a result of collaboration through several layers–from the students and parents, innovative ideas from the school administration, combined with REACTOR'S professional design, this kit represents the power of print and paper.  REACTOR'S relationship with AC Printing, a partner who knows how to print what was designed.  And then it culminated with  Midland Paper's partnership with Domtar to let us in on the great work done in KC by REACTOR and AC Printing.
Related Blogs: